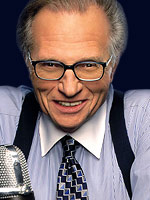 Watching Larry King Live right now we are thankful for the Conservative Resurgence.

Tonight's Topic:
America's first openly gay Episcopal bishop discusses whether homosexuals should stay in a church that won't accept them.

Al Mohler is doing a bang up job on this panel of liberal theologians and one decent orthodox Episcopal priest.
posted by Arkansas Razorbaptist at 6/15/2006 06:48:00 PM